Contributor/Donator '08
Posts: 1205
Joined: Sat Jan 12, 2008 4:38 pm
14
Location: Orange County
Have a favorite Beverage....... Beer, wine or mixologist
Post it here.
Mark
2325 WA PACIFICSKIFF
Contributor/Donator '08
Posts: 1205
Joined: Sat Jan 12, 2008 4:38 pm
14
Location: Orange County
You guys have to try this beer. Made from 10,000 year old Glacier Ice
http://www.alaskanbeer.com/amber.html
I have many favorites but this one stands out in my failing memory.
Mark
2325 Wa Pacificskiff
Mark
2325 WA PACIFICSKIFF
Donator '10, '12, '13
Posts: 219
Joined: Sat Aug 21, 2010 2:53 am
12
Attachments

90-minute-ipa.png (74.79 KiB) Viewed 13256 times
Donator '10
Posts: 369
Joined: Sat Apr 25, 2009 8:45 pm
13
Greatest stuff ever! If your ever on the Cape give any of the Cape Cod beers a try. They are available at most bars and restaurants on the Cape.
http://www.capecodbeer.com/brewery/
Attachments

Cape-Cod-Red.jpg (6.81 KiB) Viewed 13237 times
Contributor/Donator '08
Posts: 1205
Joined: Sat Jan 12, 2008 4:38 pm
14
Location: Orange County
Waterdog247's Wine pairing. Columbia Crest Reserve Chardonay
http://www.columbiacrest.com/reserve/wines/
Thanks Waterdog247
Mark
2325 WA PACIFICSKIFF
Donator '08 '09 '10
Posts: 1138
Joined: Mon Jan 14, 2008 4:48 pm
14
Location: Anchorage, Alaska
I usually have two local brews on tap from these guys:
http://www.midnightsunbrewing.com/
I am currently serving Midnight Sun Kolsch 5.0 % Alcohol By Volume and Kodiak Brown Ale 5.0 % Alcohol By Volume
I suspect we will be going through several gallons this weekend. We are having a little shindig this weekend.
Spending my kids inheritance with them, one adventure at a time.
2010 AK Meet & Greet
2012 AK Meet and Greet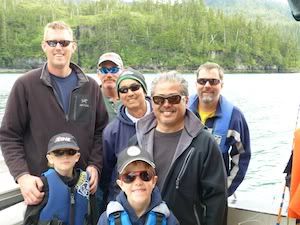 Contributor/donator/Location Nazi
Posts: 6074
Joined: Sun Jan 06, 2008 9:11 pm
14
Location: Tree-hugger, USA...they call it FLA.
A tall Glass of Irish or British
Hard Cider
like STRONGBOW, on a cool fall NE Florida day after a successful fishing trip....it's still all about fishing ain't it Mojo?
http://www.strongbowcider.com/home.html
Deep fried Trout Fillets in Peanut oil. But the secret is.....Taking the fillets and ripping them into small pieces. Not cutting them with a knife. This leave iregular edges and if you like crunchy little bits instead big thick pieces. TRY IT.
Rip up all the fillets. Put in a tupperware container with DRY spicey fish fry mix. Toss the container full of fillets.
Then, secret #2. Put in the fridge for a few hours and really let the fish and fish fry mixture come together. Re-wet the mixture again, Toss around in tupperware, add some more dry fish fry and then let sit again for awhile.
Out come, after frying? Super crispy covered Trout nuggets. Add you fav veggie dish, pop open a Strongbow. And re-live your fishing day all over again.
Nov. 18ths Gator Trout